Deepavali, 'The Fesival of Lights'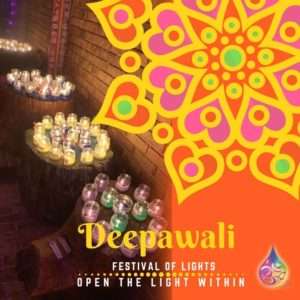 ABOUT DEEPAVALI
The festive time of Deepavali, "The Festival of Lights" marks the victory of light over darkness. Deepavali or Diwali the 'Festival of Lights' is one of the most prominent festival in India and South-East Asia, celebrated with great warmth, joy, and shining grandeur, just like Christmas is celebrated in many parts of the world. The word Diwali comes from the Sanskrit word Deepavali, which means a row of lights. [Deep = light and avali = a row]
The festival falls on the darkest, new moon night of the Hindu lunar month Kartika, that happens between mid-October to mid-November.
SIGNIFICANCE OF DIWALI
The festival of Diwali symbolises the victory of light over darkness, knowledge over ignorance, good over evil, and right over wrong. It is an occasion of high spiritual value as it signifies the opening of our own true light which sparkles within us and sharing this glow with others as well.  
The festivity of lights reminds us of the importance of knowledge, significance of understanding self and knowing and seeking the good and right pathway. Deepavali is the celebration of our inner light over spiritual darkness, of knowledge over ignorance and right over wrong.
On this day, the energies of Light take over darkness to spread love, joy, positivity and enthusiasm.
PREPARATIONS & CELEBRATIONS
Deepavali is celebrated with immense faith and enthusiasm as a time to to refresh and renew all energies. On this occasion people start preparations days in advance by cleaning, renovating, and decorating their homes and work place with flowers, colourful glow lights and many fancy decorations to invite Light energies of wealth, prosperity and wellbeing into their lives. They also perform prayer ceremonies, light oil lamps (divas) and candles.
Just like Christmas, it is a time people give gifts to family and friends. In addition to the abundance being observed, charity and selfless giving are practiced, in line with the theme of "it is in giving that you receive".
The celebrations for Deepavali usually extends over a period of five days, and the main festive night of Diwali coincides with the new moon night. The festivity starts with Dhanteras, followed by Naraka Chaturdasi or small Diwali and then Diwali on the third day. Thereafter is Diwali Padva or Govardhan Puja on the forth day and Bhai-Dhuj on the fifth and last day of the 5 day long celebration. Each day of the festival has its unique significance.
Dhanteras is the first day of the festive celebrations. The word Dhanteras itself means wealth and prosperity. The day holds special significance as people choose this day to invest in gold or jewellery. New clothes and utensils for Diwali are also bought on this auspicious occasion.
The day also pays homage to Lord Dhanwantari who is associated with Ayurveda, a form of natural therapy and various healing practices.
Narak Chaturdasi or Small Diwali is the second day. This day signifies the triumph of Goddess Kali and Lord Krishna over the demons to free the world from fear. The festival is all about dissolving the bad and protecting others.
Diwali or Deepavali is the main day of the Festival of Lights symbolic of the triumph of good over evil and light over darkness. On this day Mother Lakshmi is worshipped to achieve the blessings of wealth and prosperity.
Diwali Padwa & Govardhan Puja fall on the fourth day. On this day, also celebrated as Vishwakarma Day, people worship their instruments, arms and machinery. 
Bhai-Dhuj, the fifth day of the Diwali is a day dedicated to family bonding.
CELEBRATION TIME 2020 !
The festivities of Deepavali for year 2020 begin from 13th November (Friday) which is Dhanteras followed by Deepavali on 14th November (Saturday), Govardhan Puja on 15th November (Sunday) and Bhaiya Dhuj on 16th November (Monday).
This Deepavali, Sarva Loka Maa Her Holiness Sri Sri Sri 1008 Guruji Poonamji is showering special blessings and graces to overthrow the darkness that has engulfed the world. This "Festival of Lights" is a great time for everyone to energetically join hands to dispel the darkness of Covid-19 and Open Light in the world. Divine Bliss invites more and more volunteers to join our 'OPEN THE LIGHT WITHIN' Movement to accelerate the opening of light.
You can honour a candle by going to https://openthelightwithin.org/honoring/